THE PROJECT
After being approached about the work that the e-Nable community is doing, e-Nable Canada was asked if we could help the people of Nepal. Through research and connecting with medical professionals and a non-profit in Nepal, we confirmed that a substantial need exists.
e-Nable Canada, in partnership with e-Nable Nepal and our various advisors, have decided the most efficient use of resources is to help facilitate the creation of a permanent 3D printing lab dedicated to the building of e-Nable devices to be provided to the population of Nepal at no cost.
Peter Byron and Rishi Shrestha from e-Nable Canada will spend 4 weeks in Nepal this summer working with e-Nable Nepal to equip the lab, share our experience and knowledge with personnel there about 3D printing, 3D printing material options, printer maintenance, device customization with CAD software etc.
All money raised for this project will help provide equipment, training and materials required to construct the first 150 e-Nable devices to be delivered to the people of Nepal by e-Nable Nepal out of their newly organized 3D p rint lab.
It's important to understand that the relationship between the e-Nable organization and a child recipient must be an ongoing one. There must be an ongoing consultation to ensure safe usage of these devices and there needs to be updated devices every so often as children outgrow them. This project is about creating a sustainable service center to serve the community in Nepal. The money we are raising will allow us to set a strong foundation for e-Nable Nepal to create that service center and hit the ground running.
THE GOAL
Bring inexpensive, highly customizable, e-Nable 3D printed hand and arm devices to children in Nepal.
THE NEED
The World Health Organization estimates that "93 million children live with a moderate or severe disability. The majority of this population would benefit from prosthetics and orthotics services."
"Only 5–15% (approximately 1 in 10 persons) of the population in need has access to prosthetic and orthotic devices. The problem of accessing such devices is more acute in low- and middle-income countries."
www.who.int/phi/implementation/assistive_technolog...
Nepal is emerging from many years of agitation, political upheaval and change from a feudal monarchy to a republic. It is estimated, that 7% to 10% of the 28 million people of Nepal have disabilities.
www.rollingrains.com/readings/2010/03/the-number-of-people-with-disabilities-worldwide.html
Causes of disability include natural disasters, polio, war injuries, leprosy, accidents, birth anomalies, surgical and medical errors, mental health issues etc.
Although Leprosy has been largely eliminated, Nepal is one of a very few countries UNICEF identifies as being endemic for this disease.
www.unicef.org/protection/World_report_on_disability_eng.pdfs
MEETING THE NEEDS
Used with the safety guidelines in mind, e-Nable 3D printed devices can offer a solution, reducing many of the issues mentioned previously.
http://enablingthefuture.org/safety-guidelines/
Our partners in Nepal have estimated that they will deliver 150 devices about as quickly as they can produce these customized devices. It is expected this estimate will rise very quickly as the project begins operations in Nepal and the word gets out.
PARTNERS
There are numerous people and organizations involved in making this project a reality.
e-Nable community
e-Nable Canada
e-Nable Nepal
e-Nable Alliance
Rosemount Technology Centre, Montreal
Helios Makerspace
SUNY Polytechnic
THE e-NABLE COMMUNITY
The e-Nable community offers the background, infrastructure and designs to make this project possible. The community is also very important as mentors, advisers and more.
Today, e-Nable is in 48 countries.

There are over 8000 volunteers around the globe.

e-NABLE CANADA
e-Nable Canada is one of 5 e-Nable chapters that can be found in Canada. They are located in NL, NS, QC, ON and BC.
E-Nable Canada's roles in this project are:
Participate in project planning with e-Nable Nepal and project advisors
Fundraising
Purchasing and delivery of equipment, tools and materials
Bring together various partners from the e-Nable community as well as Canadian companies and individuals to help make this project a reality
Organizing resources and information from the e-Nable community
Exchange experience and knowledge with staff in Nepal
Assisting with 3D printing and maintaining printers, device assembly, customization
Future follow up with e-Nable Nepal
Sharing what is learned through the experience of this project for other to duplicate and improve upon
Educational project development
e-NABLE NEPAL
e-Nable Nepal's roles in this project are:
Secure the infrastructure to make this project possible including space to be used and the staff to run the project
Identify recipients for e-Nable devices
Fundraising
3D printing, maintaining printers, device assembly, customization
Future follow up with e-Nable Canada
e-NABLE ALLIANCE
e-Nable Alliance's roles in this project are:
Advising / mentoring
Connecting with resources / potential partners
Assisting with fundraising efforts
Educational planning
ROSEMOUNT TECHNOLOGY CENTRE
RTC has participated in this project in the following ways:
Equipment use for training
Materials for test printing
Space to meet and run workshops
Educational planning
HELIOS MAKERSPACE
Helios Makerspace has participated in this project in the following ways:
Advising
Space to meet and run workshops
Fundraising
SUNY POLYTECHNIC
SUNY Polytechnic has participated in this project in the following ways:
PROJECT BUDGET
Where possible the budget will be spent locally in Nepal. We are continuing to explore the selection of less expensive 3d printers. We are exploring the addition of emergency power supplies to avoid print failures during power fluctuations. We are also exploring the addition of 3D scanning technology to allow for scanning limbs of recipients to allow for better fit management and customization.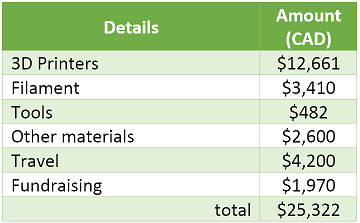 HOW YOU CAN HELP
The table below shows what your gift will help provide for the children of Nepal.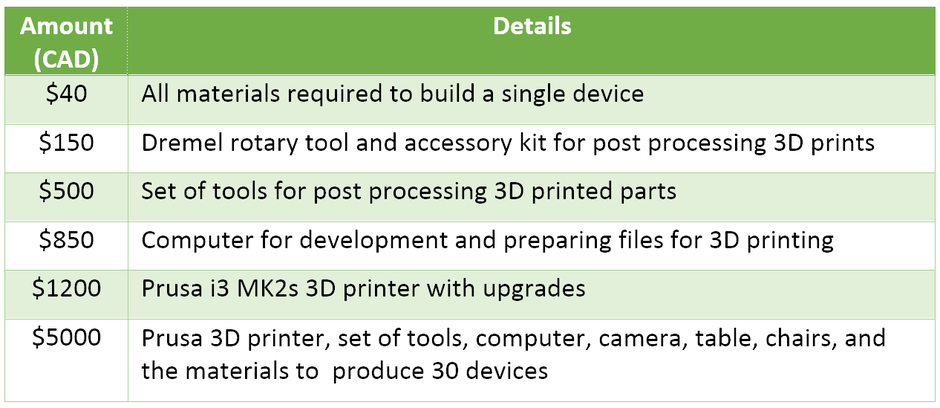 If you would like to help with this project in other ways, we are looking for volunteers who can help in the following capacity:
Translation – English to Nepalese
Translation – English to French
Web development
Fundraising
OUR COMMITMENT AND WHO WE ARE
Spearheading the fundraising here in North America is Peter Byron and Rishi Shrestha. We teach in a Computer Aided Design program in Montreal at Rosemount Technology Centre.
Rishi has a degree in mechanical engineering, 20 years of experience in design and four years of experience in teaching. Rishi has been a volunteer working with the Association of Nepalese in Quebec for nine years, 3 of those years as the secretary. He has also recently begun volunteering with e-Nable Canada and working with 3D printers.
Peter has 14 years of experience in teaching, 10 years of experience in design, and five years of experience in project management. He has been volunteering at a local makerspace for two years, founded e-Nable Canada, the first chapter of e-Nable in Canada two years ago and has been working with 3D printers for almost five years.
In support of this project we have spent time and money learning new skills, 3D printing various models of e-Nable devices and experimenting with different materials. We have also chosen to absorb the cost of purchasing a Prusa 3D printer which, after testing, we have decided to bring to Nepal as it is easy to get there, less expensive than other printers of similar quality and is proving to provide high quality prints. By making this purchase we have been able to work with this model daily to know it well before going to Nepal.
REMEMBER
Just a $40 gift will provide the materials for someone in Nepal to receive a 3D printed e-Nable device.